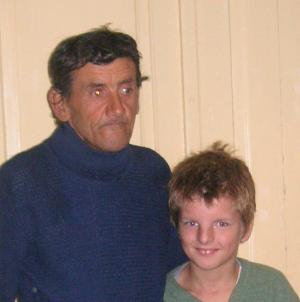 Paraschiva and Ioan got married five years ago. They knew from the start that one of the major problems they will have to face will be the lack of a decent home. Now they live in a state house, paying rent, with a single room, a little kitchen and an improvised bathroom. The hardest part is during winters, when they have to make the fire in a little attic placed in the room that is also a dining room and a bedroom. They do not have heating in the bathroom and in the kitchen. The space is very small for them and for their boy, no place for intimacy.
Ioan tells us, with tears in his eyes: "When comes the weekend, it is a real nightmare for us. We have to wait for our turn at the bathroom, because in the house there are 5 more people and the water is heated by a wood boiler. It is almost impossible to have a necessary bath all the people in the house. If we want to make it possible, we have to make lists!"
Ioan suffers from an eye illness that left him almost blind. Their little boy, Bogdan, is also ill, mental illness, and he's student at the Special School from Radauti in the fifth class. Therefore, the entire family has to live from their allowance and the money sent by the other two children, gone abroad to look for luck.
Anichitei family is helped by the other families to work on the building site at the other Door to Home houses.