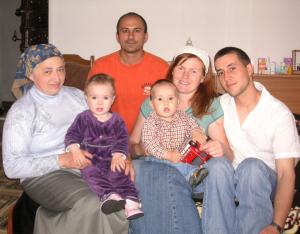 Laurenţiu and Mărioara are married since 2006 summer and they have a little boy born in June 2007. They are living in a three rooms flat that belogs to Mărioara's sister-in-law parents. In this 60 square metres flat with two bedrooms, one living-room, a kitchen and a bathroom are living 8 adults and 2 children. This is insufficient space for those ten persons, considering that those two hostess girls are full-aged and they need an adequate place of living, too.
In this flat from the fourth floor, Iacobuţă family is living in one bedroom." It is very hard for us to live so many persons in a flat. Each family has its needs and problems. Many times we don't have the family needed privacy", tells Mărioara."Being relatives and a big family we are making the housekeeping together and for food and another shopping we put money together. When we cook, we make it for ten persons and this is the reason why we have to cook every day. At the bathroom, we made a kind of "appointment" because we all have to use it and it is very hard", tells Laurenţiu.
"We wish very much to have our own house and more space like we can receive hospitably our friends. We wish like Matei Daniel to have his own room. Also, we would like to have our own kitchen. We tried to rent a flat, but the rent is too expensive and we can't afford it; we tried also to make a bank loan to buy a house, but it was the same problem", told us Laurenţiu excited.
They didn't try to register their names at the cityhall for an ANL house because they are just married and their income didn't make them eligible. They were interested about their chances and they were disappointed because there are registered many families and the ANL house that it will be build in the future won't be enough for the applications that already exists.
They heard about Door to Home from their friends and they saw the advertise given by the organisation for the year 2007. They put their first application in the 2006 autumn. They weren't selected then and they understood that there are more families in need. They didn't give up and they hoped that God will help them to have their own house.
They were happy like the children when they found out that they were selected. They know that it will be hard for them: "The work on the build site is hard but beautiful, especially that you are working for your new house and that you help other families in need", told us Laurenţiu.
Their desire is like their house to be a simple one, "we wish to have a courtyard, a small house for the dog and a lot of flowers in the front of the house" and, after that they can think to a sister for Matei Daniel, told us Laurenţiu full of enthusiasm.
Door to Home is always at the right time and in the right place. When the place is absent, they help people getting one. Door to Home breaths through the hearts of all the people suffering for poor housing in the past having now their own home. Their stories are not to be found on the front page. Their lives are simple and so is their happiness. Sometimes happiness hides in the simple things. But you recognize life in the simple things only when you lack them. Therefore, Door to Home does not build houses, but homes. For the people in need and for their brighter, sunnier future stories.