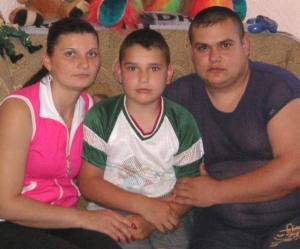 A mother's grief
The Senculet family: Ciprian, Ana Gabriela, Alexandru
Early this year the the Senculet family applied for a house at Door to Home. In April they were chosen as a Door to Home family. As a part of the EuroBuild 2007 project, they will move into their new home at the end of September. Meanwhile, they continue to pay rent, for their two room fourth floor walk-up apartment. The rent is high,
600 Ron (around 190 Euro) in winter, with the maintenance, heating and utilities; a lot of money for a family whose income is derived from their fruit and vegetable stand.
They were elated when informed of their new home-to-be, and especially when it would be so soon. For 15 years of marriage they have lived in rented flats, moving from one place to another to keep their rent low and to accommodate their family. It was particularly difficult for Alexandru who became the happiest of them all about their new home. He always imagined a home in which he would have his own room and a yard in which to play.
Alexandru has lived a difficult and hazardous life going through eight surgical interventions on each of his legs with more scheduled four years from now.
At 18 months, his parents, Ciprian and Ana, came to realize their child was not able to walk normally. At the hospital, the diagnosis was a shock: the child had a convulsive (spastic) disorder. They were told that the cause was his premature birth, resulting in paralysis of his feet. His chances of walking would be extremely low and they expected that their boy would be confined to a wheelchair.
"The hardest thing of all is to see your child sick. If it is about your mother, your father or a brother you can face it, but to see your own child suffering is an awful thing", says Ana, with tears in her eyes. She finds it difficult to tell us of all the horrifying moments they, and especially Alexandru, went through.
The first surgery took place in another town, Mangalia, when he was 18 months old. He had surgery on both the upper legs and knees to lengthen his tendons. Then, he was bed-ridden for two months. Seeing their child unable to play, and make friends caused his parents extreme heartache.
Six more surgical operations were to follow, the last one in 2005. At that time, Alexandru was a school boy and it was harder for him, to be forced to stay home. In addition it was necessary to make up for his lost months of schooling. Despite all this, Alexandru received very good marks. "The first years of school were more difficult. The other kids in school were mean and had all kinds of nicknames for him. Alexandru was not fighting back, he knew they were getting along in the end", says Ana. "He has won many awards and, he loves to compete. We are happy he did not have an inferiority complex, limping…" Today he is a communicative and cheery young fellow with many friends.
Each surgery is followed by months of recovery in different towns away from home. Two times a year he goes to the hospital in Mangalia. His therapy consists of massages, paraffin baths, and electric stimulation. All of his 8 surgical interventions must be repeated when Alexandru reaches 14 years of age, the age at which leg growth begins to subside. Until then, his parents pray for him, that one day he will be able to walk normally.
All these interventions, transportation to other cities and continuous consultations require a goodly amount of money. Since his parents do not have private insurance, they do not have all the benefits of medical insurance from the state. "We are very much in debt to our friends and acquaintances. There is no other way for us. This year we have decided to get Alexandru a private medical insurance. Maybe this will lower our costs", says Ciprian.
Door to Home is a beacon of hope for Alexandru and his parents, a hope for new beginnings in a new home. We all hope that a new, simple, decent and affordable home will bring the Senculet family great cheer, faith, and great expectations for a joyful future.