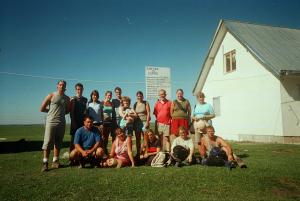 Each year, Door to Home hosts teams of volunteers from across Romania and around the world, Young and old, women and men, students and teachers, the involvement of these teams of volunteers in our work is fundamental, their contribution being found not only at the work site, but also financially, as the donations that these teams bring helps us to build more homes for families in need..
Teams of volunteers generally have between 12 to 26 people and to date we've hosted volunteers from across the globe, from USA, France, Germany, Northern Ireland, England, Canada, Norway, Japan, Switzerland, Saudi Arabia, etc. And of course we've hosted lots of teams made up of Romanian volunteers as well!
If you have a team from your school, church, company that is looking for a rewarding experience in a beautiful area of Romania, please don't hesitate to get in contact with us. We'll be happy to put together a budget for you and answer any questions you might have.
Join us in making a tangible difference in the lives of families who are need of the helping hand!